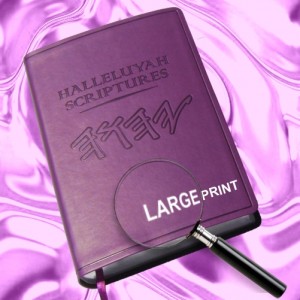 Large Print in PU Leather.
This edition is so popular and very high quality.
We are excited to offer the large print of the HalleluYah Scriptures in PU purple leather. The large print is more popular than we first thought.
These are such high quality with silver edged pages and lovely purple ribbon.
The special PU leather is such good quality and no animals died for this cover.
Every one that has received a PU leather copy all commented that the quality is much higher than what they anticipated. They love them!!!
We have decided to only offer the large print in PU leather as we know that everyone would prefer this material and it is not that much more expensive. 
We only have the PU leather large print in stock the hardcovered edition is on back order.
---
Offered on Donation Basis
Since theLarge Print t Edition is just an "accessory" to the standard soft-covered edition,we offer these on a donation bases only but have to cover costs in order to raise more funds and to print more standard soft-covered HalleluYah Scriptures for those in such desperate need.
***Please note that HalleluYAH Scriptures have been giving away the "standard soft-covered edition" for FREE for those in genuine need and who cannot afford — which is the majority of the recipients. Most of the softcovered editions go out freely — and only a minority who can afford supports thru donations.
WE ARE OFFERING THESE "SPECIAL EDITION" SO THAT WE ARE ABLE TO HELP OTHERS WHO ARE WITHOUT TO RECEIVE A FREE COPY OF THE SOFT-COVERED EDITION. Thank you and may YHWH barak you!
When you donate please bear in mind the shipping costs to your country and add that to your donation.
---
HalleluYah Scriptures Hardcovered Edition – Limited Stock.
MOST ARE DONATING AROUND $55.00–$150.00 FOR THE PU LARGE LEATHER EDITION.
This kind of donation helps others that are in need which this project is all about.
---
SHIPPING COSTS:
Just an idea of our shipping cost so you are aware.
USA shipping with tracking $6.08
Canada shipping with tracking $24.36
International shipping with tracking $37.00
---
Book Size and Font Size
The large print is 9.5 x 6.5.
The font size that most Scriptures/Bibles use is Times Roman which is a small font size. We use Arial which is a larger font. The Large print will be equal to a size 14 font making the HalleluYah Scriptures 1800 pages thick.
The HalleluYah Scriptures standard soft-covered is 8.5 sized font. We want people to be able to carry the book around and be able to read in their lap.
No leather can be embosses unless it is pig skin or fake leather. So if you have a copy from else where and it is embossed then it is pig skin.
---
Cost Elsewhere
All though we are not looking for a donation of this much per copy, you would be paying close to $200.00 including shipping elsewhere for an edition of this quality which is over priced and all profit goes into a man's hands and not into printing and shipping more copies for free for the poor and needy as does HalleluYah Scriptures.
Any donations above and beyond the cost to print and ship this edition goes to help the HalleluYah Scriptures project even more. We try and do our best for His people. HalleluYah!!!
---
Our Vow
This is our public vow and oath to the Father about the donations. Please take the time to read it so you understand the project and where the donations go.
What a wonderful gift His Word is. When you donate to HalleluYah Scriptures it ALL goes to printing and shipping only, there is no other costs.
---
Why We Offered Extra Books
HalleluYah Scriptures is producing the large print and pocket edition in accessory to the standard edition as a service in order to raise more funds to be able use to print more standard copies so that we can help even more in desperate need of His Word. There is a lot of time and effort in dealing with these extra books so kindly bear that in mind.
Your gift of His Word in hard-copy or audio will be an everlasting gift that the person can never repay, now that is special. Investing in His Word for His people is better than any other investment and you will be leaving a legacy that will be everlasting and have the ability to save lives.
Please fill in the form below. We cannot offer these free as they cost a lot more than the standard HalleluYah Scriptures and we cannot use HalleluYah Scriptures donations to pay for this special print run.
Thank you.
The HS Team